AHRMM Conference & Exhibition Sponsorship
Sponsorship is one of the best ways to brand your organization as a thought leader and to highlight your commitment to advancing health care through supply chain excellence. As a sponsor, you will be able to:
Innovate by showcasing your organization's expertise at the field's leading conference. The conference provides a myriad of opportunities to present trends, products and solutions that increase efficiency and boost innovation in health care organizations.
Engage your target audience as a thought leader. As we focus on how to advance supply chain strategy and effectively manage the quality and affordability of care, share how your company helps advance supply chain and shape the future of the field.
Connect with the field's key decision makers. With more than 1,000 attendees, AHRMM20 offers an ideal forum for establishing and strengthening professional relationships.
Download Sponsorship Prospectus
Not yet an exhibitor? Submit your application today


Step One: Choose a Sponsorship Level
Four sponsorship levels (Diamond, Platinum, Gold and Silver) are available to promote your brand and showcase your products to AHRMM20 attendees before onsite and after the show.

Not sure which level is right for you? Contact us at ahrmm@aha.org to create a package that fits your needs, budget and target audience.

All Sponsorship Level Benefits
Before the show: Logo* in the AHRMM20 mailer sent to 25,000 potential attendees and on conference website.
During the show: Logo* in printed Onsite Guide, in mobile app, signage and general session's slides, with audience up to 1,100.
After the show: Logo* in a post-conference issue of Supply Chain Strategies & Solutions magazine mailed to 4,300+ AHRMM members.
One-time use of the AHRMM20 Pre-Show Attendee Mailing List (does not include email addresses).
Sponsor Badge Ribbon for company personnel.

Diamond and Platinum Level Sponsorship Additional Benefits
One-time use of the AHRMM Member Mailing List (does not include email addresses).

Diamond Level Sponsorship Additional Benefits
Opportunity to include promotional literature about your company or products in the conference bag.
Advertising in one conference-related email blast sent to registered attendees.
Step Two: Select Your Sponsorship(s) and Receive the Above Benefits Based on the Total Amount
Maximize Attendees' Experience to Help Them Stay Engaged:
New for AHRMM20! AHRMM is excited to introduce the Steps Challenge. This exclusive sponsorship includes your logo placement on Challenge leaderboard, Challenge check-in booth, Challenge app and in Challenge announcement emails. (Upgrades available.)
Wi-Fi
Provide attendees with convenient Wi-Fi throughout the convention center and at a hot spot at your booth. Your company name as password.
Onsite Guide & Mobile App
Your logo placed throughout conference mobile app and on the cover of the Onsite Guide.
Welcome Reception
Your logo on signage throughout the venue, drink tickets and tent cards.
Headshot Station
Logo featured at the Headshot Station in the AHRMM Hub where attendees can have professional headshots taken.
Sunrise Yoga
Treat attendees to an invigorating yoga session on Monday and Tuesday morning.
Fuel Innovation and Thought Leadership:
Keynote Address
Speaker introduction and recognition signs during opening keynote offer a tremendous opportunity for exposure.
General Session
Speaker introduction and recognition signs during general session, our best attended educational events.
Keep Attendees Connected:
Charging Station
Keep attendees plugged in with Charging Station featuring your logo on large signage to be used in high traffic area of conference.
Digital Signage
Keep your company logo and message constantly in sight of attendees as they navigate learning lab rooms.

Sponsorships are limited and available on a first-come, first-served basis. Contact AHRMM at ahrmm@aha.org to discuss your sponsorship goals today!

Download Sponsorship Prospectus
Want to Exhibit at AHRMM20?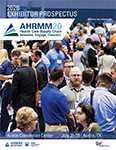 Download the AHRMM20 Exhibitor Prospectus or Submit your application online