AHRMM Novel Coronavirus (COVID-19) Update
We at AHRMM and the American Hospital Association (AHA) are tracking the coronavirus disease 2019 (COVID-19) situation daily, offering ongoing updates and the latest resources to the health care supply chain professionals. As the COVID-19 outbreak evolves, AHRMM is working with the AHA and other AHA professional membership groups (PMGs), as well as members, public officials, personal protective equipment (PPE) vendors, donors, suppliers, and association and health care leaders to help address the challenges of the COVID-19 response.
Please bookmark this page and check back often as we continue to update this information daily.
AHRMM is collaborating with GHX using the same tools, expertise and processes leveraged by its Vendormate solutions to vet non-traditional suppliers offering PPE supplies. The Vendormate process has been in place for more than 15 years and is a trusted source of information to credential new vendors. The process includes information such as sanction searches, validating tax ids, reviewing financial snapshots and business licenses/certifications.
All suppliers are being reviewed through the Vendormate solution using the Fraud Abuse Control Information Systems (FACIS) Level 1M search which is considered the minimal "best practice" and includes all federal level data. Searches are being performed against agency sources of information including Office of the Inspector General (OIG), System for Award Management (SAM), and the FDA. FACIS Level 1M also includes state level Federal Healthcare Entitlement Program (FHEP) related data. This includes information such as state offices of the Medicaid Inspector General or equivalent state's Attorneys General, the Medicaid Healthcare Fraud Prevention and Enforcement Action Team ("HEAT") content and any state level contractor or procurement debarment data.
The listing of these suppliers or their products is for informational purposes only, and in no way constitutes or should be viewed as an endorsement by AHRMM or the American Hospital Association.
If you used one or more vendors from this list, please take a brief survey to rate your experience so we can continue to improve this resource.
Abel Unlimited Inc.
Contact: Jared Maltz | Marketing Director | jared@aiacorp.com | 561-713-1363
Type of Products: facemasks, respirators, filters, cartridges, goggles, face shields, headgear, hand sanitizer, infrared thermometers, disposable shoe covers, hazmat boots
AccuQuilt
Website: www.accuquilt.com
Contact: Joy Banfield | Chief of Staff | 402-714-1615
Type of Products: surgical masks
Accurate Metal Fabricating
Website: www.accuratemetalfab.com
Contact: Jeff Kaminsky | National Sales Manager | jkaminsky@accurateperforating.com | 708-269-9384
Type of Products: capable of producing beds, medical cabinets, shelving units, medical enclosures and metal storage & security cabinets
ADIT Solutions
Website: aditechnologies.com
Contact: Richard E Owen | Director of Business Development | rowen@aditecnologies.com | 703-772-3146
Type of Products: COVID-19 Quick Test Kits (antibody), hand and surface disinfectant (hospital-grade), N95, surgical, KN95 and other varieties of face masks, protective disposable gloves, portable ventilators, infrared/thermal cameras which can detect human body temperatures, protective suits (Tyvek type), no-touch electronic (IR) thermometers
Agratronix
Contact: Deidra Roberts | CEO | droberts@agratronix.com | 330-414-6045
Type of Products: KN95, respirators
Alliance Trading Group
Website: www.allitra.com
Contact: Patrick Soong | CEO | patrick@allitra.com
Almo Corporation
Website: www.almo.com
Contact: Warren Chaiken | CEO | wchaiken@almo.com | 888-420-2566 Ext 4048
Type of Products: distribution of supplies
American Dental Excellence
Contact: Thomas B. Sauer | President | tsauer@macarthurgroup.org | 202-888-4752
Type of Products: masks, gowns, sanitizer gel
AmShield
Website: www.amteksigns.com
Contact: Bill Reicherter | CEO | amshield@amteksigns.com | 516-410-4826
Type of Products: protective intubation box
Bamko, LLC
Website: www.bamko.net / superiorgroupofcompanies.com (parent company)
Contact: Jimmy Silberman | Director of Business Development | jsilberman@bamko.net | 310-926-5240
Type of Products: hand sanitizers, KN95 masks, booties, gowns, goggles, vinyl gloves, ear loop face masks, splash guards
Candid
Website: www.candidco.com
Contact: Joshua Ford | Head of Global Business Development | joshua.ford@candidco.com | 315-719-4838
Type of Products: faceshields
Captiv8 Supply
Website: www.captiv8promos.com
Contact: Larry Shapiro | larry@captiv8promos.com
Type of Products: masks, gowns, headwear
Catalyst Fabric Solutions
Website: www.catalystfabricsolutions.com
Contact: Brent Campbell | bcampbell@catalystfabricsolutions.com | 864-510-4201
Type of Products: cloth face mask covers
Concepts Display, LLC
Website: www.conceptsdisplay.com
Contact: Ann Klarkowski | Administration Manager | ann@conceptsdisplay.com | 952-214-4567
Type of Products: faceshield
Core SWX, LLC
Website: www.coreswx.com
Contact: Ross Kanarek | CEO | ross.kanarek@coreswx.com | 516-595-7488 x 201 | Mobile: 516-884-5542
Type of Products: Face shields
Creative Designs & Marketing, Inc.
Website: www.VolunteerGifts.com
Contact: Iris Hyman | President/Owner | Iris@VolunteerGifts.com | 800-293-0032
Type of Products: masks, facial shields, goggles, hand sanitizers, first aid kits, flashlights
Crew Knitwear
Website: www.crewknitwear.com
Contact: Tricia Franklin | CEO | tfranklin@crewknitwear.com
Delco LLC
Website: delco.services
Contact: Joel Morrison | joel@delcoproducts.com | 785-691-7516 or Reed Neuberger | reed@delcoproducts.com | 979-777-7712 or Thomas Neuberger | thomas@delcoproducts.com | 979-229-9903
Type of Products: N95 masks, medical PPE
Diamonds of the Kingdom, LLC
Website: www.diamondsofthekingdom.com
Contact: Patrick Blount | Owner | client@diamondsofthekingdom.com | 407-451-7103
Type of Products: N95 mask, surgical mask with MOQ
Disaster Recovery Services LLC
Website: www.disastersllc.com
Contact: David W. Andrews | Vice President | dandrews@disastersllc.com
Dynamic Denim
Website: www.dynamicdenim.com
Contact: Martin Barrack | President | martin@dynamicdenim.com
Type of Products: medical garments, gowns
Endonovo Therapeutics Inc
Contact: Todd Witherspoon | Director of Business Development | twitherspoon@endonovo.com | 626-394-6386
Type of Products: Pulsed Electromagnetic Fields Therapy (PEMF) Products
Enthusiast Media Group (EMG)
Website: www.enthusiastmediagroup.com
Contact: Buck Bailey | KN95 program manager | bbailey@enthusiastmediagroup.com | 971-227-2628
Type of Products: KN95
FAM, LLC
Website: www.fambrands.com
Contact: Carrie Henley | Executive Vice President | chenley@fambrands.com | 310-951-0724
Type of Products: N95 and surgical masks
FinePromotions, Inc.
Website: www.finepromotions.com
Contact: Robb Fine | robbfine@finepromotions.com | 317-298-3100 x 111
Type of Products: N95 masks, 3-layer medical masks, hand sanitizers
Fitletic Sports LLC
Website: www.Fitletic.com
Contact: Uri Sharabi | President | uri@fitletic.com | 305-206-2360
Type of Products: KN95
Halo Branded Solutions Inc.
Website: www.halo.com
Contact: Paul J. Bouchard | Senior Account Director | Paul.Bouchard@halo.com | 630-254-0084
Type of Products: Hand sanitizer, isolation gowns, kn95 masks, gloves, shoe covers, goggles, face shields
Harry Bachrach, Inc.
Contact: Michael Mone | President/CEO | mmone@harrybachrach.com | 212-683-2845
Type of Products: N95, KN95, surg. masks, gowns, caps
HNM Medical
Website: www.hnmmedical.com
Contact: Noah Roitman | President | noah@hnmmedical.com | 954-562-8267
Type of Products: full PPE line, 3D printed Swab for COVID19 testing
HospitalPORTAL
Website: www.hospitalportal.net
Contact: Rich Budish | Manager | rbudish@hospitalportal.net | 847-632-0434 x 277
Type of Products: employee portal software
Inplex Custom Extruders, LLC
Website: www.inplexllc.com
Contact: Jessica Anderson | Marketing Director | janderson@inplexllc.com
Type of Products: Plastic Tubing for IVs (various lengths and sizes), swab sticks and custom plastic tubing made to order
Jade Products Inc
Contact: Dan Browning | jadeproducts1@gmail.com | 276-608-0554
Type of Products: faceshields
KEK Associates, Inc.
Website: www.kekdesign.com
Contact: John Kasper | Sr. Industrial Designer | john.kasper@kekdesign.com | 585-899-9333
Type of Products: faceshields
Keyper Trading LLC
Website: www.keypergroup.com
Contact: Yecheng Li | yecheng.li@keypergroup.com | 917-868-8528
Type of Products: gloves, N95 masks, COVID-19 diagnostics test kits, DuPont hazmat coverall, hazmat Suits, NIOSH 95N 70% alcohol hand sanitizer, FFP2, Laser non-touch thermometers, full body suits, goggles, hood, booties
Leesa Sleep LLC
Website: www.leesa.com
Contact: Jessica Moody | Project Manager | together@leesa.com
Type of Products: supplemental USA made mattresses, beds, pillows and waterproof mattress protectors
Logistics Plus, Inc.
Website: www.logisticsplus.net
Contact: Molly Schoullis | Project Manager | molly.schoullis@logisticsplus.net | 855-843-7452
Type of Products: N95, gloves, robes, goggles, faceshields, masks, hand sanitizers
Looptworks
Website: www.looptworks.com
Contact: Scott Hamlin | CEO | scott@looptworks.com | 503-830-1546
Type of Products: surg mask, KN95, gowns, coveralls, gloves, headstrip thermometer, goggles, reuseable face mask
Masgow International Trading Inc.
Website: www.masgowppe.com
Contact: Raymond Ye | masgow.ppe@gmail.com | 909-272-6051
Type of Products: N95/KN95, goggles, coveralls, infared thermometers
Masimo Corporation
Website: www.masimo.com/COVID-19solutions
Contact: Paul Ordal | Solutions@masimo.com | 949-297-7000
Type of Products: remote patient monitoring
Merrow Manufacturing
Contact: Sarah Johnson | Sales | s.johsnon@merrow.com | 508-542-1002
Type of Products: gowns, surg masks
MFI International
Website: www.mfiintl.com
Contact: Karsten Siewert | karsten.siewert@mfiintl.com | 336-601-2391
Type of Products: masks, gowns
Midsci.
Website: www.midsci.com
Contact: Charlene Laughlin | charlene.laughlin@midsci.com | 314-471-9245
Type of Products: KN95
MOSS INC
Website: www.mossinc.com
Contact: Lisa Illman | Director, New Business Development & Strategic Partnerships | LIllman@mossinc.com | 847-238-4259
Type of Products: sneeze guards, food guards, face masks, emergency shelters, testing shelters, distance dots
Mowax Visual, LLC
Website: www.mowaxvisual.com
Contact: Megan Paur | Project Manager | megan@mowaxvisual.com | 469-580-6809
Type of Products: faceshields
MPGTandem
Website: www.mpgtandem.net
Contact: Mark Wibbenmeyer | V.P. of Sales | mark.wibbenmeyer@sbcglobal.net | 314-518-6582
Type of Products: masks, gowns, gloves
Mursix Corporation
Website: www.mursix.com
Contact: Susan Murray Carlock | scarlock@mursix.com | 317-371-3560
Type of Products: face shields, metal, plastic, and acrylic components for hospital beds and respiratory-assist devices
National Jar Company LLC
Contact: Matthew Julian De Soto | CEO | matthew@lionshare.io | 925-683-2978
Type of Products: N95
Noa Brands
Website: www.noabrands.com
Contact: Devin Dardanes | Regional VP, Sales | ddardanes@noabrands.com | 303-815-0627
Type of Products: faceshields
Odin Fashion Corporation
Website: www.odinfashion.com
Contact: Lawrence Lin | lawrence@odinfashion.com
Type of Products: NIOSH N95 face masks, and 3Ply face masks
Pacific Design Inc
Website: www.sinoskycorp.com
Contact: Alan Tang | alan@sinoskycorp.com
Type of Products: face masks/protective wear, ventilators
PHD Energy, Inc.
Contact: George Chesonis | gbc@crownconnect.tech | 310-626-3446
Type of Products: N95 masks
Physician Merchant Services
Contact: Mark Harrison | CEO | mharrison@thcms.us | 956-212-4388
Type of Products: CoronaCide Rapid IgG IgM coronavirus test, Micro Sure day surface and hand sanitizer
Physicians Medical Technologies Inc
Website: www.physiciansmedicaltechnologies.com
Contact: Dr James Stoxen DC | President | teamdoctors@aol.com | 312-858-0800
Type of Products: KN95
Play with a Purpose
Website: www.pwap.com
Contact: Nicole Alberts | Brand Sales Manager | 855-851-2639
Type of Products: portable sink stations, antimicrobial stools
Precision Products, LLC
Website: www.myfaceshield.com
Contact: Rainer L. Kuhn | President | rainer@gofreeheart.com
Professional Plastics, Inc.
Website: www.professionalplastics.com
Contact: Tommy Kedroutek | Market Development Manager | t.kedroutek@proplas.com
Type of Products: face shields, clear face shields with black bracket, KN95 surgical respirators which is an N95 equivalent, standard disposable medical masks
Proforma Big Ideas
Website: www.proforma.com
Contact: Josh Doughty | National Account Manager | josh.doughty@proforma.com | 704-606-8440
Type of Products: KN95, surg. Masks, eye protection, isolation gowns, gloves
Proforma Nitro Incentives
Website: www.nitroincentives.com
Contact: Mike Egnal | Owner | mike@nitroincentives.com | 972-407-6100
Type of Products: PPE, FDA/CDC cert
Quality Worldwide
Website: www.qualityworldwide.com
Contact: Mary Mercado | Business Development Manager | marym@qualityworldwide.com | 714-337-9315
Type of Products: KN95, surg. mask, import manufacturing
Queen City Polymers
Contact: Queenie Zou | Sales Director and partner | queenie@relync.com | +86 13632948655
Type of Products: real-time fluorescent RT-PCR Kit for 2019-nCov Detection, FDA 510K surgical mask/disposable masks, KN95 mask
Rorze Automation, Inc
Website: www.rorzeautomation.com
Contact: Matthew Cook | mcook.hhc@gmail.com | 801-244-3048
Type of Products: N95/FFP2
Sama Eyewear
Website: www.samaeyewear.com
Contact: David Wiggins | Global Brand Ambassador | david@samaeyewear.net | 412-849-3355
Type of Products: KN95, masks, faceshields, goggles
Saroj International, Inc.
Website: www.feminawoman.com
Contact: Jaivin Karnani | jkarnani@sarojusa.com | 951-522-9922
Type of Products: KN95, importer/distributor, large order inbound now
Serta Inc.
Contact: Gary Blackney | gblackne@sertasimmons.com | 614-563-5339
Type of Products: beds
Serta Simmons Bedding
Website: www.sertasimmons.com
Contact: Katie Quigley | Field Sales Rep. | kjquigley@sertasimmons.com | 913-216-1960
Type of Products: beds
Smartmatic USA
Website: www.sterisafe.eu
Contact: Denis Bechac | Business Development Director | denis.bechac@smartmatic.com | 985-264-5556
Type of Products: disinfecting robot, PPE and medical devices
Southend Pharmacy
Website: www.southendpharmacystore.com
Contact: Survam Patel | Managing Partner | survam@gmail.com | 832-618-0375
Type of Products: Hydrogen Peroxide 3%, hand sanitizer
Studio Theatre
Website: www.studiotheatre.org
Contact: Josh Escajeda | Director of Production | jescajeda@studiotheatre.org
Type of Products: masks, mask covers, Tyvek suits
Trend Setters Ltd
Website: www.TrendSettersLtd.com
Contact: JoEllyn Jablonski | President | joellyn@trendsettersltd.com | 309-241-2780
Type of Products: face masks, KN95, 3 Ply (all FDA cert.)
Triple T Trading Ltd.
Contact: Jeff Thayer | Vice President | Jefft@triplettrading.com | 425-330-8614
Type of Products: N95, KN95, gown, coveralls, faceshield
The Vertical Collective
Website: www.theverticalcollective.com
Contact: Katherine Zabloudil | Partner | Katherine@theverticalcollective.com | 310-595-5651
Type of Products: KN95 Masks, N95 Masks, 3-Ply Surgical Masks, Gloves, Nasal Swabs, Hospital Linens
Wooter Apparel LLC
Website: www.wooterapparel.com
Contact: Jason C. Lewis | National Procurement Director | jason@wooterapparel.com | 508-688-4146
Type of Products: N95/KN95 masks
Work 'N Leisure Products, Inc.
Website: www.wnlproducts.com
Contact: Audrey Bennett | audrey@wnlproducts.com
YOYO WORLD INC
Website: www.yoyolipgloss.com
Contact: Joanne Panker | Director of Sales | Joanne@yoyolipgloss.com | 631-568-2825
Type of Products: KN95; 3ply
Companies with no financial snapshot available at this time:
All States MED
Contact: Victor Rocha | csr@allstatesmed.com | 954-999-7651
Type of Products: N95; 3ply; beds
Arbor Apothecary
Website: www.arborapothecary.com
Contact: Ranvir Gujral | Chairman | ranvir.gujral@adaptiveenergyllc.com | 650-799-4734
Type of Products: hand sani; faceshields; intubation box
Global Gateway Logistics
Website: www.shipglobalgateway.com
Contact: Caitlin Murphy | CEO | caitlin@shipglobalgateway.com | 314-898-7741
Type of Products: N95/KN95 freight forwarding, buyer assistance
GRAPHIC EXPRESS MENU
Contact: Michael Metcalf | NY Sales Office | michael@graphicexpressmenu.net | 516-298-8128
Type of Products: faceshields
Grayson Corporation
Contact: Jeffrey A. Scarpinato | President | jeffscarpinato@mediacombb.net | 309-912-0330
Type of Products: instant Covid-19 test kits
Happy Home Medical
Website: www.thedunkcollection.com
Contact: Marshall McKinney | President | marshall@thedunkcollection.com
Type of Products: gloves, N95 Masks, KN95 Masks, Surgical Masks, Body Suits
Hatch Coolers
Website: www.aocoolers.com
Contact: Brian Hatch | brian@aocoolers.com | 951-582-9798
Type of Products: KN95; masks; gowns
Heartland Publications, Inc.
Contact: Jeff Loftus | jeff@heartlandhomesusa.com | 217-899-1528
Type of Products: KN95 and N95 masks
HEXA Containment
Website: www.hexacontainment.com
Contact: Dean Haveman | dean.haveman@hexacontainment.com
Type of Products: face shield
Infrawear, LLC
Contact: Steve Silver | CEO | steve@rxbra.com | 949-378-3051
Type of Products: N95 masks
iTech 361, LLC
Website: www.itech361.com
Contact: Jeff Roth | President | rc70@mac.com | 915-760-4159
Type of Products: masks and sanitizer
KG Graphics Decor
Website: kggraphicsdecor.com
Contact: Kevin Gazdag | kevin@kggraphicsdecor.com | 440-336-4283
Type of Products: N95
Marlans Group
Website: www.marlans.com
Contact: Ayal Frank | ayalfrank9@gmail.com | 202-246-8163
Type of Products: ventilators
Miss Tilly's Ltd.
Website: www.tilly-tilly.com
Contact: Tilly Behbahany | girlboss@tillytilly.co.uk | 503-544-4920
Type of Products: N95 masks, surgical masks, protective glasses, and gowns
Octagon Industries, Inc.
Website: www.octagonind.com
Contact: Antonio Chong | President | achong@octagonind.com | 210-494-1520
Type of Products: faceshields
ODY Accessories, Inc.
Contact: Brandon Cohn | Brandon.L.Cohn@gmail.com | 203-962-1610
Type of Products: KN95, surg. masks, isolation clothing
Planet Halo, Inc.
Website: myhealth.planethalo.com
Contact: Ted Wu | Director of Business Development | t.wu@planethalo.com | 650-456-1611
Type of Products: KN95, no-contact thermometer, other PPE
Portable Electric LTD
Website: www.portable-electric.com/health-care
Contact: Fraser Larock | fraser@portable-electric.com | 604-836-1309
Type of Products: temporary clean/silent power
Preston
Website: www.prestonribbons.com
Contact: Christopher Ebinger | General Manager | chris@prestonribbons.com
Type of Products: face masks
RYTE Ventures, LLC
Website: www.rytesport.com
Contact: Alex Young | President | alex@rytesport.com | 949-874-0665
Type of Products: N95
SAMGO1 LLC
Contact: Julia Samaniego | samgo1@charter.net | 817-614-9254
Type of Products: RS1 Particle Mask
Sandy Alexander, Inc.
Website: www.sandyinc.com
Contact: Rob Mayerson | CTO | rmayerson@sandyinc.com | 609-789-7766
Type of Products: faceshield
Sawnee Enterprises, Inc.
Contact: 604 Dalmore Dr., Johns Creek, GA 30097
Type of Products: personal protection suits, testing kits, non- contact infrared thermometers, and face masks
SmartPoint Solutions LLC
Website: www.SmartPointSolutions.us
Contact: Aaron Kroll | Partner | aaron@smartpointsolutions.us | 540-239-6455
Type of Products: 3M N95 Model 8210
The Forecast Agency, LLC
Website: www.theforecastagency.com
Contact: Michael MacGregor | Owner | michael@theforecastagency.com | 323-810-2403
Type of Products: produce 500k-1M N95 Niosh masks per week
TO THE MARKET SURVIVOR MADE GOODS, INC
Website: www.tothemarket.com
Contact: Trish Cope | Sales Director | trish@tothemarket.com | 631-418-4400
Type of Products: PPE, including all types of masks, scrubs, gowns, (including isolation)
Trestle Health and Housing LLC
Website: www.trestlehousing.net
Contact: Bill Mulcahy | Managing Director | 917-833-9455
Type of Products: additional room capacity & meals
Twirlconnect LLC
Website: www.twirlconnect.com
Contact: Pamela Fleischer | pam@twirlconnect.com
Type of Products: garment manufacturer
We are sharing resources from organizations that we think may help you and your hospital or health system in the wake of the COVID-19 pandemic. The listing of these suppliers or their products is for informational purposes only, and in no way constitutes or should be viewed as an endorsement by AHRMM or the American Hospital Association. If your organization is temporarily offering a member-only or cost-based application or resource at no cost and would like to be added to this list, please contact ahrmm@aha.org.
---
ASTM International is providing no-cost public access to important ASTM standards used in the production and testing of personal protective equipment - including face masks, medical gowns, gloves, and hand sanitizers - to support manufacturers, test labs, health care professionals, and the general public as they respond to the global COVID-19 public health emergency. Register if you are a new user to our reading room and then you may access and download a PDF of the standards relevant to the global health pandemic. You will be asked to login at no cost to you. Access standards at www.astm.org/COVID-19.
---
Careismatic Brands is donating $1 million of Cherokee and Dickies branded scrubs in collaboration with local community-based retailers, to hospitals for their front line health care workers caring for COVID-19 patients. To receive these free scrubs, the company requires that hospital supply chain/procurement/purchasing executives OR hospital executive team members email Careismatic Brands at Scrubs@Careismatic.com. Requests should include the hospital name, hospital contact and cell phone, hospital delivery address, and the quantity requested for each womens, mens and unisex scrubs plus the size range needed in tops, pants and jackets in each size (regular/petite/tall in XXS/S/M/L/XL/2X/3X/4X/5X).
---
Crestline Hotels & Resorts has 120 hotels throughout the country readily available to house medical staff and first responders. Contact Amy Johnson, Regional Vice President of Sales, at amy.johnson@crestlinehotels.com or 910-470-2710 for more information.
---
Curvo has accelerated its free release of Lookup by Curvo to help hospitals deal with price gouging and sourcing alternative products during the pandemic. With no IT requirements to be up and running, users can instantly search over 1.2 million unique products, view a device's cost and safety information within a second, and use a dynamic price spray graph to visualize market competitiveness. Curvo is announcing free access to this new product from now until July 31st for any health care provider organization. Supply chain, value analysis, materials management, and procurement teams may use this powerful solution completely free of charge for a limited time to assist during COVID-19 supply chain challenges. Visit curvolabs.com/lookup to sign up and begin using this resource.
---
DTN is providing for free during the spring season its premium weather service to hospitals, medical institutions, public health agencies and first responders worldwide. WeatherSentry uses predictive models and adaptive technology to project various scenarios and hourly forecasts for the 72-hour period at a specific site. Real-time data combined with map-based local storm reports, hyper-local data and first-hand accounts provide better visibility into high-impact weather in location-specific areas that enhance safety and reduce risk. Real-time lightning display and alerts for severe thunderstorms, high winds, hail, tornados, lightning and extreme temperature conditions. Live meteorological consulting when important weather decisions are needed. Sign up now.
---
eTrain
is a full-service software design company that specializes in medical simulations to deliver advanced educational technology to the healthcare community. eTrain offers a FREE Covid-19 Personal Protective Equipment (PPE) emicrosim™ case (~10 minutes). Free case-based digital microsimulations provide learners increased knowledge, improved skills, and more confidence in any patient care situation. Visit the
eTrain website
to watch a 30-second overview video for eTrain's Covid-19 PPE donning and doffing microsim.
---
First Databank (FDB) has developed an extensive list of manufacturers and vendors of supplies such as ventilators, N95 masks, gloves, and other protective equipment. Part numbers and UDI information are included, as well as each manufacturer's contact information. We hope that this information, curated from our FDB Prizm medical device knowledge platform and other available sources, will help hospitals identify new suppliers for the items they are currently finding unavailable. FDB will be updating this information as new suppliers enter the market—including some non-traditional distributors that are jumping in to help meet the need—and will send these updates to everyone who receives the list. If hospitals would like to receive this resource in easy-to-use spreadsheet form list, they can complete and submit the contact form.
---
GHX and Lumere identified multiple manufacturers and distributors that supply "at-risk" products needed for COVID-19 care, and built a reference list, including potential supplier part numbers. Lumere, a GHX company, used this list to compile research to easily review and compare similar products and assist in expediting alternative sourcing needs. In addition, Lumere is providing complimentary access to this research through April 30, 2020. Learn more at GHX COVID-19 Information Center.
---
Hillrom (NYSE: HRC) announced, it is donating an additional $3 million in medical devices well-suited for critical and intensive care environments to 25 U.S. hospitals. Learn more at Hillrom COVID-19 Resource Center.
---
Jump Technologies has opened its inventory management platform up free of charge during this crisis for hospitals looking to track critical inventory such as PPE items. With less than an hour's worth of work from hospital supply chain staff, JumpTech can provide you with the means to view the data you need to see where inventory is located, who is consuming the inventory and how the material is performing against allocation. Hospitals can also set up and track internal allocations that they set up for their departments and affiliates. Learn more at Jump Technologies.
---
National Recall Alert Center, in light of the current health care crisis, is making its entire recall alerting and management system available at no cost to any and all hospitals and ASC's that are not current members (nor were members for the past 6 months). This will be in effect for either 6 months or for whenever the crisis ends - whichever is longer. The service includes a supply shortage module. Call 888-537-8376 to be placed into the real-time system covering all hospital departments.
---
Panjiva Supply Chain Intelligence offers a supply chain intelligence product helpful in identifying alternative suppliers of essential equipment such as ventilators and PPE. If you're interested in using our Panjiva product free of charge during these extraordinary circumstances, contact Kellin Clark, Director, Government Affairs & Public Policy, S&P Global, at 202 381 8716 or kellin.clark@spglobal.com.
---
Qventus is a tool that manages patient flow automation. They are offering a free Localized COVID-19 Model and Scenario Planner. The tool utilizes machine learning and data to populate demographic data and estimate hospital resource estimates. Users can modify the data as appropriate for their facility, export the data and share any modified data with other users. The tool can also run scenarios including social distancing effects on hospital, PPE conservation, and triage. The model can be used to plan for future weeks by reviewing a range of various scenarios. Visit the Qventus website to access the tool.
---
Resilinc announced the launch of The Exchange at Resilinc, an online platform for health care, where procurement groups interact with vetted peer organizations to identify, locate and exchange critical supply items. Each organization can list items they need and offer those they can spare in exchange. As the platform begins its rollout in mid-April, hospitals and first line health care providers experiencing supply shortages can submit requests for specific items and be matched with peer organizations who can supply those items. For a myriad of reasons, shortages occur across critical product categories. The COVID-19 pandemic is an especially relevant example where specific products are known to be in short supply. In collaboration with hospitals and other health care organizations, The Exchange at Resilinc provides the tools needed to help streamline supply shortage needs, allowing the health care community to respond to patient needs faster, more efficiently and at less cost. Joining The Exchange community is quick and easy. To get started, complete the pre-registration form.
---
SmartyStreets is donating up to $1,000,000 in address validation services to help companies who are fighting the COVID-19 pandemic. Learn more at www.smartystreets.com/covid-19.
---
Teva is donating 6 million doses of hydroxychloroquine, a therapy used to treat malaria that's also shown some positive results when used off-label to treat COVID-19. Teva is ramping up production and anticipate having an additional 10 million doses in the channel within 30 days. And just to underscore this, Teva is providing this medicine at no cost to the buyers.
---
Xcelrate UDI Inc is offering their UDI-Inventory module at no cost to health care systems. Scanning inventory with Xcelrate UDI Inc. application reads all manufacturer UDI barcodes on medical supplies, devices and equipment. An inventory can then be made in minutes with complete UDI information. Learn more at XcelrateUDI.com.
AHRMM recognizes the risks and concerns caused by the severe shortage of PPE that is impacting patient care and safety of health care workers. We recommend reaching out to alternate and non-traditional supply channels, such as veterinary clinics as well as dental offices, clinics and distributors as potential sources of PPE. If you have recommendations for how to maximize the use of PPE and identify new sources of PPE, please send us an email at ahrmm@aha.org.

Harbor Freight is donating their entire supply of the personal protective equipment items listed below to front line hospitals with 24 hour emergency rooms in the communities served by the company stores. If you work at a hospital with a 24-hour emergency room in need of these items, please submit Personal Protective Equipment Request Form. Please do not make requests at your local store or call center. For hospitals Harbor Freight is able to help, they'll email a voucher to a hospital when the supplies are available for pick up at their local Harbor Freight Tools store.
---
eBay has shared the inventory of respirators on their site available from 3rd party sellers.
---
Meperia is a technology company that places significant emphasis on AI-driven technology to promote unlimited data attribution and normalization. With millions of medical-surgical items and over 20,000 manufacturer catalogs in our Virtual Item Master, we can quickly and easily identify products that are functional alternatives (items share either the same attributes as the primary product or have most but not all attributes in common with the primary product). While critical health care supplies are limited in availability, this guide provides functional alternative products, but most importantly also includes a wide variety of distributors for all of these products. Download the free resource guide.
AHRMM Recommendations on COVID-19 for Health Care Supply Chain
The American Hospital Association continues to report on the novel coronavirus (COVID-19) and monitor updates from the Centers for Disease Control and Prevention (CDC) and World Health Organization (WHO). First identified in Wuhan, China, in December 2019, the virus has spread globally with more than 6,000 associated deaths.
AHRMM is engaged with numerous health care leaders, associations, and regulatory agencies in an effort to keep our members up-to-date on the latest activities surrounding COVID-19. We are working very closely with Strategic Marketplace Initiative (SMI), Health Industry Distributors Association (HIDA), Institute for Supply Management, ECRI as well as AHA professional membership groups to support health care supply chain's preparation and response to COVID-19. A few items to note in light of this public health concern:
Only through ongoing collaboration and communication efforts with your suppliers and other resources, understanding product shortages and allocations you may be facing or expect to face, and identifying and implementing conservation measures can we hope to minimize supply disruptions and ensure uninterrupted patient care.
AHRMM Connect, our online member-only community, is the ideal place to pose questions or update other health care supply chain professionals on how your organization is handling this threat.
AHA Updates and Resources
Since the outbreak began, the AHA has worked closely with CDC, Department of Health and Human Services and other agencies to ensure the health care field is informed and prepared to respond. The AHA has developed and shared a number of resources and updates the COVID-19 webpage daily.
CDC Updates and Resources
We recommend following CDC's advice on preparing for COVID-19 and protecting your workforce. Resources for health care facilities offer guidance, steps and general strategies CDC recommends to prevent the spread of COVID-19.
WHO Updates and Resources
WHO offers evidence-based guidance according to eight pillars of WHO's Strategic Preparedness and Response Plan that every country can use to prepare and respond to COVID-19.
Upcoming Events
Virtual events related to COVID-19, offering ongoing updates and guidance.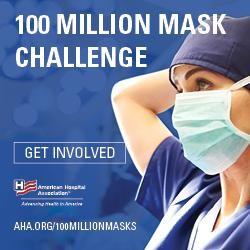 100 Million Mask Challenge
The American Hospital Association is expanding the 100 Million Mask Challenge nationwide. We are calling on manufacturers, the business community and individuals across the country to coordinate efforts--facilitate new relationships with hospitals and health systems--in order to rapidly produce needed PPE on a large scale for our nation's health care heroes.
Become an AHRMM member
Get 24/7 access to the online health care supply chain community to collaborate and learn from others how they address the unique challenges of the COVID-19 pandemic.