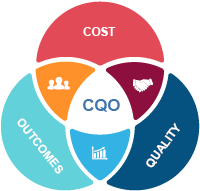 The AHRMM Cost, Quality, and Outcomes (CQO) Movement refers to the intersection of cost, quality, and outcomes, and a more holistic view of the correlation between cost (all costs associated with delivering patient care and supporting the care environment), quality (patient-centered care aimed at achieving the best possible clinical outcomes), and outcomes (financial reimbursement driven by outstanding clinical care at the appropriate costs) as opposed to viewing each independently.
History and Evolution of the CQO Movement
The ever-changing economy cuts in Medicare reimbursements, and the passage and upholding of the Affordable Care Act (ACA) have put pressure on hospitals and healthcare organizations to reduce costs and improve patient outcomes without sacrificing the quality of care. Healthcare executives increasingly recognize that their organization's success relies on the performance and effectiveness of the supply chain, which will play an even more critical role as the industry responds to healthcare reform. From today's rapidly shifting healthcare landscape, a new model for healthcare operations and delivery is emerging - one that heralds a new era of unprecedented opportunities for the supply chain profession.
Historically, supply chain has done a good job of overseeing and managing expenses for hospitals, including both the price paid for supplies and the processes associated with the procure-to-pay cycle. Supply chain professionals have made great strides over the years in developing strategies that streamline operations and maximize resources. However, looking at supply chain costs alone is neither effective nor realistic in the new healthcare model. Hospitals and healthcare systems need to understand total costs – cost of ownership of supplies, cost of procedures, cost of delivered care, which are all dependent upon quality and outcomes, which in turn determine reimbursement levels. All of these must be taken into account, fully processed and comprehended in order for the supply chain to deliver on its full potential to help healthcare delivery organizations thrive and succeed in the new healthcare landscape. The intersection of cost, quality, and outcomes is where supply chain can most effectively improve the quality and affordability of healthcare.
Supply Chain Takes the Lead
Supply chain is particularly well-suited to assume a leadership role in this area, as it already occupies a cross-disciplinary role within hospitals and health systems by working across departments, administration, and clinical hierarchies to maximize efficiency and value, as well as helping hospital finance teams weigh revenue per procedure against procedure expenses to achieve overall financial targets. AHRMM is ready to lead the supply chain profession as it embraces the intersection of cost, quality, and outcomes.
Training and Education Framework
As part of CQO, AHRMM has been developing training and education framework designed to prepare supply chain professionals to:
Decipher and leverage complex analytics
Understand the impact various payment policies – including accountable care, bundled payments, value-based purchasing and other programs – will have on reimbursement
Create discussion, build consensus, and, when appropriate, motivate change around clinical preference items
Anticipate and swiftly respond to disruptions in the supply chain – like drug shortages – so patient care is not compromised
Understand the impact of all medical supplies, devices, and pharmaceuticals on patient outcomes and reimbursement
Launch and Progression of the CQO Movement
The rollout of CQO began in January 2013 with a webinar and an online course on healthcare reform and the supply chain. Much broader than an education initiative, the CQO Movement is being woven into every facet of the organization. Every AHRMM committee and task force is structuring its activities and deliverables to support this movement that will ripple throughout the healthcare industry.