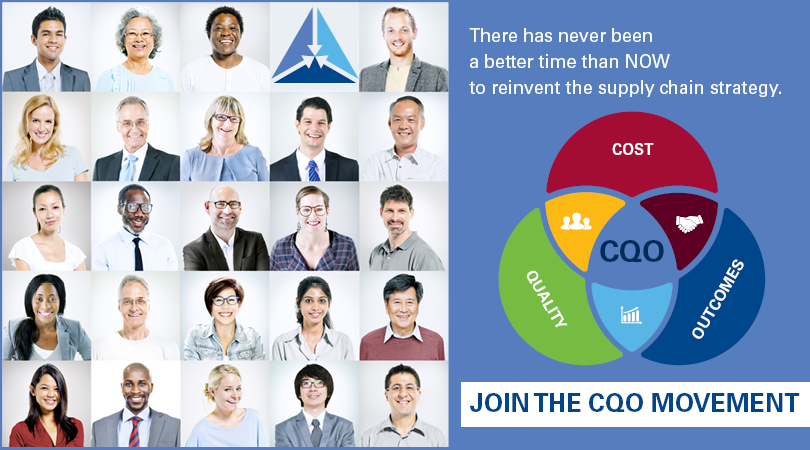 In today's rapidly shifting health care landscape where declining reimbursements and changing payment policies are set to be the new norm, how do you ensure your health care organization delivers quality care at a more affordable cost?
As health care executives increasingly recognize that their organization's success relies on the performance and effectiveness of the supply chain, how will you manage their expectations?
Join the Cost, Quality and Outcomes (CQO) Movement and add your voice to a thriving and ever-growing health care community dedicated to sharing and learning from each other to advance the supply chain strategy.
The AHRMM CQO Movement frames the critical role supply chain professionals play in driving high quality care, at a more affordable cost, to deliver greater value to patients.
CQO: The Definition
The CQO Movement looks at the intersection of, and the relationship between:
Cost: all costs associated with caring for individuals and communities

Quality: care aimed at achieving the best possible health

Outcomes: financial results driven by exceptional patient outcomes
It is important that these relationships be considered together rather than in silos.
Explore educational opportunities and discover a wealth of materials developed specifically for health care supply chain professionals to help them effectively manage the quality and affordability of care.
Be a part of the movement and take the lead in revamping supply chain strategy by broadening its focus beyond cost, to include the correlation with quality and outcomes.
Leading Practices
Tap into an online repository of evidence-based, replicable supply chain best practices and tools to eliminate:
Catheter Acquired Urinary Tract Infections (CAUTI)
Hospital Acquired Pressure Ulcers (HAPU)
Hospital Acquired Nosocomial Pressure Ulcers (NPU)
Costs Related to Blood Products and Services
Case Studies
AHRMM has worked with health care supply chain teams across the nation to develop case studies highlighting how their organizations have embraced the tenets of the CQO Movement. Read the case studies to learn how other supply chain professionals work at the intersection of CQO to reduce costs while improving patient care and driving greater financial outcomes for their organizations.