AHRMM Conference & Exhibition
AHRMM Conference & Exhibition is the leading education event and the central meeting place for providers, afiliates and exhibitors working in all facets of health care supply chain.
Upcoming Conference

Join us at the Austin Convention Center this July 26-29 for four days of insightful keynotes, practical learning labs, vendor presentations on the latest technology and solutions and face-to-face networking with the leading health care supply chain leaders. Visit annual.ahrmm.org for more information. #AHRMM20
Top 5 Reasons to Attend The Annual AHRMM Conference & Exhibition
1

Develop New Skills

Attend learning labs and pre-conference educational sessions and workshops to discover new best practices and success strategies.

2

Build Your Network

Catch up with colleagues and make new connections that can be the start of long-lasting, mutually beneficial relationships. Meet face-to-face with thought leaders, subject matter experts and peers to exchange experiences, ideas and best practices.

3

Hear from Dynamic, Innovative Speakers
The AHRMM Conference offers a chance to capture a year's worth of health care supply chain news and best practices in just four days. Tap into the knowledge of field experts, fellow health care supply chain professionals and executives.

4

Discover New Products and Solutions

Explore and discuss the latest supply chain trends, products and solutions to see if they may bring efficiency for your health care organization.

5

Uncover AHRMM Member Benefits

Meet AHRMM's Board, volunteers and staff and learn how AHRMM can help you keep in touch with your professional community, advance your career and support your profession.
Want to Exhibit at AHRMM20?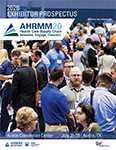 Download the AHRMM20 Exhibitor Prospectus or Submit your application online
Looking for AHRMM20 Sponsorship and Advertising Opportunities?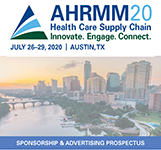 Order AHRMM19 Conference Proceedings

Order today
What to Expect
1,000+ ATTENDEES
80+ SPEAKERS
50+ LEARNING LAB SESSIONS
8 EDUCATIONAL TRACKS
UP TO 19.5 CPE Hours
200+ EXHIBITORS
6.5  DEDICATED EXHIBIT HALL HOURS