Essentials of Health Care Supply Chain Certificate Series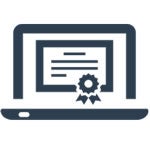 Price: Member: $765.00 | Non-Member: $950.00
Continuing Education Credits (CECs): 20 hours (5 per module)
Gain a thorough understanding of health care supply chain fundamentals through AHRMM's Essentials of Health Care Certificate Series. If you are new to the field, climbing the career ladder, or simply need a refresher on the core disciplines of health care supply chain, the four online certificate programs will build a foundation of key supply chain aspects.
Participants can connect with the curriculum through an interactive format with hands-on activities, quizzes, and case studies to enhance engagement and comprehension. After completing each program, participants will be equipped with a comprehensive knowledge of the responsibilities related to that discipline.
The four online programs are designed to teach all aspects of the responsibilities in the following disciplines of the healthcare supply chain:
Each certificate program consists of four modules full of real-life examples and advice from seasoned supply chain professionals, followed by an exam. Upon successful completion of the four modules, you will receive a certificate for continuing professional education in that area of health care supply chain management.